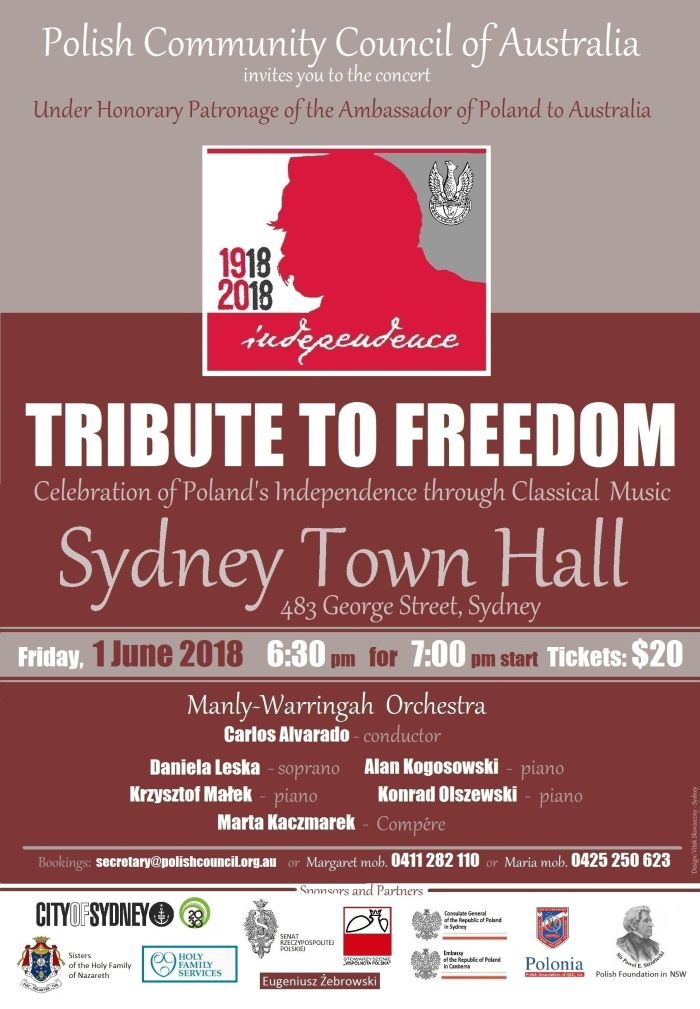 Obchody 100-lecia odzyskania niepodleglosci, organizowane w Sydney w dniach 1-3 czerwca 2018, zostaly dofinansowane  przez Stowarzyszenie "Wspólnota Polska" ze środków Kancelarii Senatu w ramach sprawowania opieki Senatu RP nad Polonią i Polakami za granicą w 2018 r. 
Programme
 

Zygmunt Noskowski (1846-1909)                 

The Steppe, symphonic poem, Op.66 (1897)

 

 

Manly-Warringah Orchestra

Carlos Alvarado – conductor

Official part -  Welcome, speeches

Marta Kaczmarek – compère

Fryderyk Chopin (1810-1849)

Ballada No. 1 in G Minor, Op.23

Nocturne in C Minor, Op.48

Polonaise in A-Flat Major, Op.53 "Heroic"

Krzysztof Małek – piano

Richard Addinsell (1904–1977)

Warsaw Concerto (1941)

Alan Kogosowski- piano

Manly-Warringah Orchestra

Carlos Alvarado – conductor
Intermission (20 min)
Karol Szymanowski (1882-1837)

Kurpie songs, Wysla burzycka (Op.85 No.2)

Fryderyk Chopin (1810-1849)

A Maiden's Wish (Op.74, No.1)

Spring (Op.74, No.2)

Troubled Water (Op.74, No.3)

My Darling (Op.74, No.12) 

Daniela Leska – soprano

Benjamin Burton – piano

 

 

Ignacy Jan Paderewski (1860-1941)

Piano Concerto in A minor, Op.17 (1888)

     I.        Allegro

    II.        Romanza: Andante

  III.        Allegro molto vivace

Konrad Olszewski - piano

Manly-Warringah Orchestra

Carlos Alvarado – conductor

Wojciech Kilar (1932-2013)

Polonaise from the movie "Pan Tadeusz" (1998)

Manly-Warringah Orchestra

Carlos Alvarado – conductor
Programme – Composers
Zygmunt Noskowski - Steppe (symphonic poem)
This is the first Polish symphonic poem, written in 1896. Noskowski, who promoted melodics in his work, introduced to this new musical form the voice elements of wing noise, sound of horse hooves, shepherds' boots, cossack songs, war cries and the clash of clashing sabers. This can be seen to be associated with the 1905 Nobel Prize for Literature laureate, Henryk Sienkiewcz's "Trilogy", which was the composer's intention. The song, as well as Sienkiewicz's novels succeed by remaining fresh and contemporary.
Fryderyk Chopin - Ballade No. 1, Op. 23; Nocturne Op. 48; Polonez Op.53
Richard Addinsell - Warsaw Concerto
Richard Addinsell composed the piece for piano and orchestra in 1941 for the British film Dangerous Moonlight. The film depicts the Nazi invasion of Poland in 1939 and its plot is based on the history of a pianist and composer, Stefan Radecki. Radecki takes part in the war as a fighter pilot and the Warsaw Concerto is conceived when Radecki, under the full moon, plays the piano in a bombed apartment in Warsaw. The music combines the echoes of war and feelings associated with war experiences.
Karol Szymanowski - Pieśni Kurpiowskie Op.85 No 2
Fryderyk Chopin - Songs - Wish (Op.74, No 1), Spring (Op.74, No.2), Smutna rzeka (Op.74, No.3), My caress (Op.74, No.12)
Ignacy Jan Paderewski - Piano Concerto minor, Op. 17
The concert is the most famous composition by I. J. Paderewski, recognized as one of the greatest promoters of Polish piano music. The work was created over several years. Part one - Allegro - was written by Paderewski in 1882. The following parts were composed in subsequent years in Zakopane, Krakow and Vienna respectively, and the entire composition was completed in Paris in 1888. The concert premiered in Vienna in January 1889. The music featured in numerous studio and concert recordings. Paderewski himself performed the piece many times during his concert tours.
Wojciech Kilar - Polonaise from Andrzej Wajda's film "Pan Tadeusz" (The last Foray in Lithuania)
In this film version of Adam Mickiewicz's epic poem, music is omnipresent and takes nearly a quarter of the duration of the film. The composition highlights up to ten basic motifs that make up the ensuing suite. Two themes, however, play a special role. The first is the invocation, which begins the film with a smooth exit from the Paris salon and a retrospective "return" to Lithuania. The second is the eponymous Polonez with a triumphant melody that reverberates in the finale of the film.
Programme - Performers

Daniela Leska. Soprano. Young Opera Artist 2017 (Pacific Opera); scholarship holder George Boland Scholarships and ArtStart Grant. She graduated from Adelaide's Elder Conservatorium of Music and Western Australia's Academy of Performing Arts (WAAPA). Then collaborated with the State Opera of South Australia, the Australian International Opera Company, the Lyric Opera of Melbourne, Co-Opera Inc., Opera Projects Sydney, Australian Global Entertainment and Willoughby Symphony. Her achievements include roles in "The Marriage of Figaro" (Barbarina), "La Traviata" (Annina), "Enchanted Flute" (Papagena, Pamina). She has performed in Germany, Switzerland and China. She recently performs with the Opera Australia in "The Magic Flute" (as Pamina).

Marta Kaczmarek. Concert host. Actress and poet. Educated at the L. Solski Theatre Academy in Krakow. Decorated with the Knight's Cross of the Order of Polonia Restituta for her contribution to the cultivation of Polish culture in Australia (2004). Author of the collection of poetry Ziemia Przybrana (Adopted Earth, 2004). Active on stage in Poland and Australia. Known for Australian television film roles, i.e. Glitch, Newton's Law, Mr. & Mrs. Murder, The Doctor Blake Mysteries, Underbelly, Offspring, Rush, Trip for Biscuits, Wentworth. Winner of the Equity Award for Outstanding Performance by an Ensemble in a Drama Series in 2015 (Rake). She appeared in the Beast movie which won the main prize at the Flickerfest International Film Festival (2017).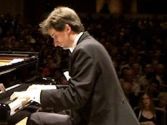 Krzysztof Małek. Pianist. A recognized performer of the works of Fryderyk Chopin and Franciszek Liszt. He studied at the Akademia Muzyczna im. F. Chopina in Warsaw and the Vancouver Academy of Music in Canada. He also studied in the master classes of V. Mierzhanow, A.Orlovietzki and V.Viardo (Moscow), O.Yablonska (New York), R. Reichman (Melbourne) and Ch.Elton (London). Laureate of international piano competitions in 1997 (Poland), 1999 (Lithuania), 2001 (Poland), 2007 (Australia). Scholarship holder of the Minister of Culture and National Heritage (2001). Diploma of the Minister of Culture and National Heritage for concert activity in the Chopin Year (2011). He performs in Europe, Asia, North America and Australia.

Alan Kogosowski. Pianist. A recognized performer of Fryderyk Chopin's works. He studied at the Ecole Normale de Musique in Paris; he also studied in Warsaw and London. The youngest (16 years) Winston Churchill Memorial Fellowship (Australia) scholarship holder. The performer of the last public concert of Fryderyk Chopin (London, Chicago). Curator and music presenter. For 10 years he led a series of musical evenings (Schubertiada, London) where musicians from around the world performed. He also ran a concert series at the Royal Academy of Arts, Leighton House, and Gibson Hall (London).

Konrad Olszewski. Pianist. He studied piano at the University of Melbourne. He also studied in the master classes of Piotr Paleczny (Warsaw), Norma Fisher (London) and the Hellwig class (Berlin). Winner of piano competitions - Ewa Malewicz Musical Scholarship (Sydney, 2006), Dorothy Glover Memorial Award (2006), Herbert Davis Award (2006), Chris Krans Instrumental Award (2006) and Hephzibah Menuhin Memorial Award (2010). Scholarship holder John Allison Sydney Eisteddfod (2012). He gave concerts in Żelazowa Wola (birthplace of F. Chopin) and as a soloist with Zelman Symphony Orchestra (Melbourne).

Benjamin Burton. Pianist-accompanist. Scholarship holder of the Bel Canto Summer Program (Germany, 2014). Awarded the 2nd prize for the best pianist in the MIETTA Art Song Competition (2016). He has accompanied performers such as Susannah Lawergren, Hannah Fraser and Andrew O'Connor (2016). He was a member of Opera Australia's NSW School's Touring Company (2016) and has been accompanist at the Australian Institute of Music.
Manly-Warringah Orchestra. The orchestra consists of professional musicians, many who have played with orchestras such the SSO and the AOBO, as well as prominent community orchestras. Colombian born conductor Dr Carlos Alvarado, an experienced musician, was educated in Moscow and Berlin. He is also the Musical Director and Conductor of the renowned Manly Warringah Choir.